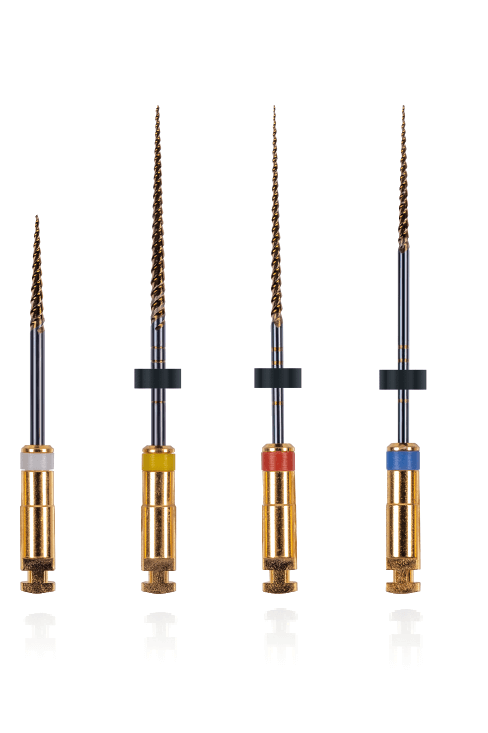 CMA Gold
Rotating endodontic instruments made of heat-treated nickel-titanium for root canal shaping and retreatment. It is recommended to use it with an endo motor with Auto-Reverse function.
Characteristics
One simple and unique sequence:
Same instruments for root canal shaping and retreatment.
Simplicity:
One single sequence for treatment and retreatment.
Same sequence for all canals:
simple, curved and narrows from monoradiculated teeth and molars.
Safe instruments:
The signs of wear of the file are visible to the naked eye: prevents the fracture risk
Advantages
Better resistance to fatigue
More flexibility
More resistance to fracture
Refill of 6 NiTi GOLD rotary instruments
Taper
ø Tips
Ring
Total
length
C

Coronal
  10%
25
White
17mm
M

Median
   6%
25
Yellow
21mm
25mm
A

Apical 1
   4%
20
Red
21mm
25mm
29mm

Apical 2
   6%
20
Blue
21mm
25mm
29mm

Apical 3
   6%
30
Green
25mm

Apical 4
   7%
40
Black
25mm
Instructions for use
Speed on treatment
 
300 to 400 tr/min
Torque on treatment
2 N/cm
Speed on retreatment
400 to 600 tr/min
Torque on retreatment
2 N/cm
Movement
Progression towards the apex by continuous short and rapid up-and-down strokes, finishing off with a "brushing" movement on the root canal walls.
Video